Consejería en AHC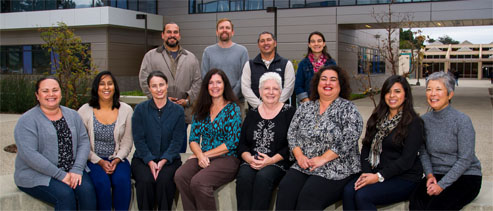 Ubicado en el Edificio A, El Departamento de Consejería de Allan Hancock College está abierto para consejería con cita y para visitas sin citas. Nuestro personal de consejeros le puede asistir con consejería académica o personal y con transferencias. El Departamento de Consejería en Allan Hancock College ofrece una gran cantidad de recursos para ayudarle a lograr el mayor beneficio de su experiencia en el colegio.
Hacer una cita con un consejero - Santa Maria
Hacer una cita con un consejero - Lompoc
Horario*
| | | |
| --- | --- | --- |
| Santa Maria Campus | (805) 922-6966 ext. 3293 | (805) 922-9586 FAX |
Lunes
Martes
Miércoles
Jueves
Viernes

8 a.m. – 4:30 p.m.
8 a.m. – 6 p.m.
8 a.m. – 4:30 p.m.
8 a.m. – 4:30 p.m.
8 a.m. – 4 p.m.
*El horario está sujeto a cambios
Favor de llamar para hacer una cita y para preguntar sobre el horario de las visitas sin citas
Número FAX del Departamento de Consejería: (805) 922-9586
Lompoc Valley Campus
Vandenberg AFB Center
Santa Ynez Valley Center
(805) 735-3366 ext. 5374
(805) 734-3500
(805) 922-6966 ext. 3355
Declaración de la Misión
La misión del Departamento de Consejería es apoyar los objetivos educativos del colegio y reforzar el crecimiento académico, de carreras y personal de cada estudiante. El Departamento promueve el conocimiento y apreciación del mundo complejo en el que vivimos, a través del acceso a personal de diversos grupos étnicos que cuenta con entrenamiento profesional, conocimientos y habilidades.
Resultados del Aprendizaje Estudiantil y Consejería

Logros Principales:
Los estudiantes podrán navegar los servicios de apoyo educativos y estudiantiles para reforzar su éxito.
Los estudiantes tomarán decisiones pro-activas y asumirán la responsabilidad estudiantil.
Los estudiantes podrán identificar los cursos necesarios para alcanzar su enriquecimiento personal y/o sus metas educativas.
SPOTLIGHT
Keely Moriarty
Fire Academy Student

"The academy has shown me a lot more than I even suspected. It's showed me the physical demands that you need to reach and the instructors push you over the limits just so that when go to do the real thing you can achieve that. You'll push yourself and eventually reach the limits that you thought you were never capable of. You get really hands-on with all your crew and working with each of the instructors. The most valuable thing that I've learned in the academy is learning to work to your own level of excellence. Being at the college has been a great experience."
Submit a Testimonial »
We're Changing
the Odds!