Ann Foxworthy, Ph.D.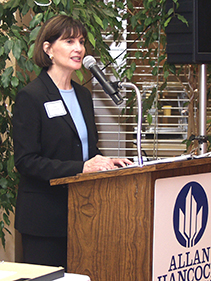 In 1992, Ann Foxworthy, Ph.D. became the first woman superintendent and president of Allan Hancock College and served in that position until she retired in 2004.
During her tenure, Foxworthy oversaw many historical improvements to the college. She was instrumental in introducing online instruction and registration to Allan Hancock College, she oversaw the expansion of the college to include the Lompoc Valley Center and the Solvang Center, and she helped restructure the AHC Foundation making it more active in fundraising and scholarship awards.
Dr. Foxworthy was passionate about visual and performing arts and creating a special place on campus to showcase art was a significant goal of hers.
SPOTLIGHT
Onyemauche Agbodike
Law Enforcement

"I believe there needs to be more females in law enforcement. It is a challenging but rewarding career, especially for those who love to work with people. I am proud to be a member of the 109th class of Allan Hancock College's Law Enforcement Academy. This is an amazing opportunity to be trained by experienced instructors at a beautiful facility in my hometown."
Submit a Testimonial »
We're Changing
the Odds!