Ann Foxworthy, Ph.D.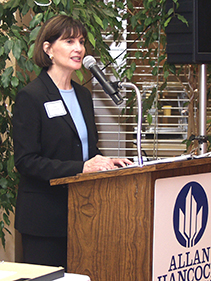 In 1992, Ann Foxworthy, Ph.D. became the first woman superintendent and president of Allan Hancock College and served in that position until she retired in 2004.
During her tenure, Foxworthy oversaw many historical improvements to the college. She was instrumental in introducing online instruction and registration to Allan Hancock College, she oversaw the expansion of the college to include the Lompoc Valley Center and the Santa Ynez Valley Center, and she helped restructure the AHC Foundation making it more active in fundraising and scholarship awards.
Dr. Foxworthy was passionate about visual and performing arts and creating a special place on campus to showcase art was a significant goal of hers.
SPOTLIGHT
Nelly Guerra
Agribusiness

"The agribusiness program and the different teachers in this field have helped me in so many ways and shaped what I want to do in my life. They have also helped me get an internship. This program has prepared me for Cal Poly by not only being involved and helping in the community but by helping me realize how many people in the community are willing to help students succeed. My Career goal is to transfer to Cal Poly San Luis Obispo and someday be involved in the nursery business interacting with different plant breeders."
We're Changing
the Odds!