Campus Sustainability Improvements
Campus Sustainability Improvements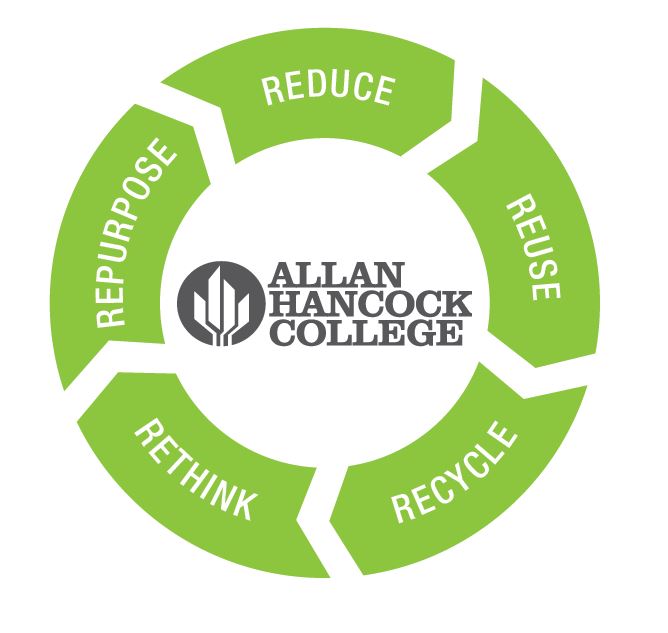 Recycling
Beverage containers
Metals
Cardboard
Pallets
Packaging materials
Furniture recycling and reuse
Shredded paper
VTC white paper pickup
Construction materials
White goods
Landscaping
Grass mulching
Tree waste chipped and used for landscape mulch
Low-water use vegetation – use of native plants
Drop irrigation
Weather-based irrigation controls – based on evaporation rates and temp
Low-flow irrigation spray heads
Low-maintenance landscapes
Irrigation water separate from potable water – switching to well water
High nitrate well water reduces need for fertilizer
Storm water retention basins.
Hazardous Materials
Recycling chemicals and paints
Recycling universal waste – light tubes, batteries, incandescent bulbs, light ballasts
Recycling electronic waste – computers, printers, monitors, radios, televisions, copiers
Recycling automotive oils, greases, and antifreeze
Utilizing non-hazardous parts cleaners
Recycling vehicle batteries and tires
Recycling used vehicles either through auction or scrap metal
Paper Reduction
Electronic communications – Email – myHancock Website
Two-sided copying
Recycled content copy paper
Book Rentals
Book buy-back program
Electronic textbooks
Books available to the library on loan
Facilities Efforts
Automated energy management systems for HVAC and lighting
Timers and photo-sensors on parking lot and perimeter building lighting
lighting dual-function occupancy sensors
Updating HVAC system using less energy
Updating lighting systems using less energy – moving to LED technology
Replacing old boilers with high-efficiency units
Utilizing multi-stage tankless water heaters
Carpets from recycled materials – use of carpet squares for less waste
Low VOC paints and stains
Electric hand dryers
Green chemicals for cleaning
Waterless urinals
Automatic controls on water faucets and toilets
Recycling/trash bins
Installation of water bottle filling stations
Skylights for natural lighting
Parking lots – grinding asphalt – reusing as base materials
Solar roof panels for electrical savings ( new childcare center)
Transportation
Updating from older vehicles to more efficient vehicles
Switchover to electric vehicles
Additional bicycle racks
Additional walkways
Bus stops – adding more in the future
Recycled Products Purchased
Entry mats and fatigue mats
Plastic piping for storm sewers
Copy paper
Recycled content paper towels and toilet paper
Shop towels
SPOTLIGHT
Yazmin Perez
Administration of Justice Student

"I came to Allan Hancock College with no plan or goal. The friendly staff here helped me see all the opportunities that are available and helped me shape my goals. The administration of justice program inspired me to look at jobs I never thought I would find. My goal now is to transfer to a four-year university."
We're Changing
the Odds!