Events
Want to schedule a library orientation for your class? After you check the calendar, schedule your orientation here:
Schedule a Library Orientation
Interested in seeing what events are happening at the library? Check out the library calendar below!
Summer Hours at the Library
In fall, the library hours will be back as scheduled below. Have a great summer!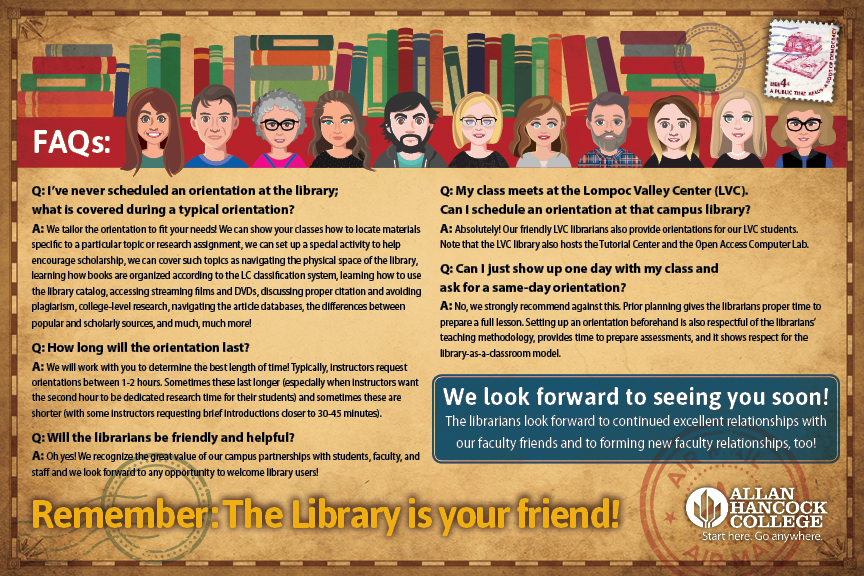 LBRY 170 Class: Do you want to become a better researcher? Sign up for LBRY 170 (Library Research Methods) next fall! This online class is 2 units and will cover the basics of college-level research.
Friends of the Library Book Club: Allan Hancock College Friends of the Library invites all staff and faculty to participate in timely discussions, develop relationships with peers and mentors, gain a fresh perspective, and re-energize as a team, all through a monthly Book Club! We will be reading a variety of genres to include a mix of fiction and non-fiction. Our next meeting will be on Friday, June 21, from 12-1 pm (in L-337) and we will be discussing The Storied Life of AJ Fikry, by Gabrielle Zevin. The next Book Club picks are as follows: The Overstory by Richard Powers (to be discussed on Friday, July 19, from 12-1 pm); The Night Circus by Erin Morgenstern (to be discussed TBA) and The Library Book by Susan Orlean (to be discussed in September, date TBA).
This opportunity can earn you Professional Development hours. Please contact Susie Kopecky at ext. 3453 for more info.
Makerspaces in the Library!

The makerspace returns! From 1-4 pm, come to the AHC Library lobby (Santa Maria campus) and receive assistance with the project. After 4 pm, materials will remain out till closing (10 pm). All supplies will be provided and this is completely free and open to all! The makerspace themes for next fall semester tentatively include make your own crochet art, books, painted pinecones, and cards.
OER Drop-In Hours: AHC faculty - Do you have questions about Open Educational Resources (OERs)? Come by the Santa Maria campus library and we can assist you. Drop by the library any time between 1-3 pm on Tuesdays and a librarian will assist you.
Welcome to a

new

semester, and a brand

new

offering from your library. You can now enjoy complimentary access to the

New

York

Times

digital content and the Wall Street Journal digital content with unlimited access to articles,

new

s, videos and multimedia*.
To set up your New York Times account for the first time, you must be on our campus internet network. Click on the image below, and follow the steps as directed on the webpage accessnyt.com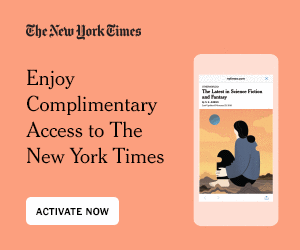 To set up your Wall Street Journal account for the first time, s
tudents, faculty and staff can activate their WSJ memberships via this URL:
If you are having trouble creating an account, or have any questions—please stop by the library reference desk and we would be happy to help.
*ask the library about restrictions including crosswords and date ranges