Events
Interested in seeing what events are happening at the library? Check out the library calendar below!
Want to schedule a library orientation for your class? After you check the calendar, schedule your orientation here:
Schedule a Library Orientation
Research workshops at the library
This semester, come learn about research essentials, new article and film databases, and much more! See specific research workshop dates and topics in the fliers below. We look forward to seeing you soon!

Free Lecture Series at AHC!
This February and March, come enjoy four (free!) lectures presented by AHC faculty (current and former) on the topic of the play Julius Caesar (in conjunction with PCPA's production of it) as well as a variety of other topics. The lectures will take place on the following days and times:
Thursday, February 20, from 12-1 pm (AHC Library Lobby, Santa Maria campus)
Wednesday, February 26, from 5:30-6:30 pm (LVC campus, room 1-202/203)
Thursday, March 12, from 1-2 pm (AHC Library Lobby, Santa Maria campus)
Thursday, March 26, from 5:30-6:30 pm (LVC campus, room 1-202/203)
Return of the Basket Silent Auction!
It's that time of year again -- the Friends of the AHC Library are proud to present the annual spring basket silent auction! Proceeds go towards supporting free campus and community events (such as the popular lunch and learn series, the faculty lecture series, the Banned Books Week scavenger hunt, and much more)! Bidding will be online for the very first time this year! The silent auction will run from March 30 through April 8. Anyone is invited to donate a basket (though baskets with books are highly encouraged)! The Friends of the Library request that all baskets are delivered by March 24, to provide time to wrap the baskets and take photographs for the online auction.
OverDrive for AHC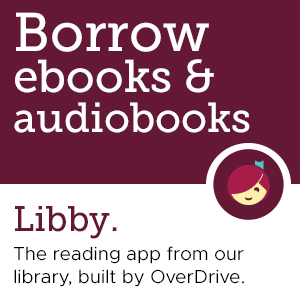 Welcome to OverDrive, AHC! OverDrive is a free ebook and audiobook borrowing service. Check out many new and exciting selections unique to AHC's virtual shelves. Begin browsing by going to https://hancockcollege.overdrive.com/ and then download the Libby app to read these books and listen to audiobooks on your phone or other device. To get started, select AHC as your library. Contact us with any questions!
Book Club
Friends of the Library Book Club:

The Friends of the Allan Hancock College Library invites all staff and faculty to participate in timely discussions, develop relationships with peers and mentors, gain a fresh perspective, and re-energize as a team, all through a monthly Book Club! We will be reading a variety of genres to include a mix of fiction and non-fiction.

Our next meeting will be on Friday, February 21, from 1:15-2:15 pm in L-337) to discuss The Cooking Gene

by Michael W. Twitty. The March Book Club pick is Born a Crime

by Trevor Noah (to be discussed on

Friday, March 27, from 1:15-2:15 pm in L-337). The April Book Club pick is

When Breath Becomes Air by Paul Kalanithi (to be discussed on

Friday, April 17, from 1:15-2:15 pm in L-337).

The May Book Club pick is

The Book Woman of Troublesome Creek

by Kim Michele Richardson (to be discussed on

Friday, May 15, from 1:15-2:15 pm in L-337). The June Book Club pick is Killers of the Flower Moon: the Osage Murders and the Birth of the FBI (to be discussed on Friday, June 19, from 1:15-2:15 pm in L-337) and the July book pick is Fahrenheit 451 (to be discussed on Friday, July 17, from 1:15-2:15 pm in L-337).
This opportunity can earn you Professional Development hours. Can't attend the meetings but want to join the book club? Current faculty and staff can join the conversation via Canvas! Please contact Vickey Smith at

vickey.smith@hancockcollege.edu or call (805) 922-6966 ext. 3224 for more information.
OER Drop-In Hours: AHC faculty - Do you have questions about Open Educational Resources (OERs)? Come by the Santa Maria campus library and we can assist you. Drop by the library any time between 1-3 pm on Tuesdays and a librarian will assist you.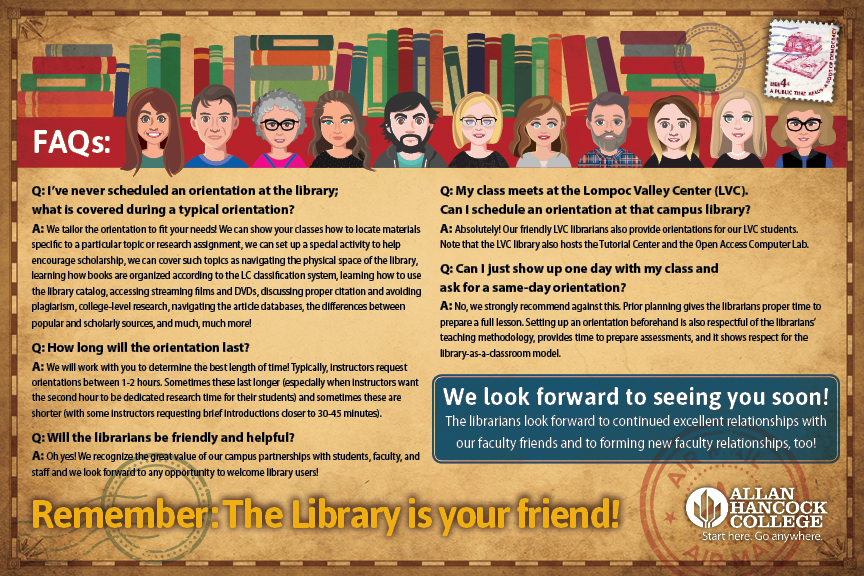 You can now enjoy

complimentary digital access to the

New

York

Times

and the

Wall

Street Journal

with unlimited access to articles,

new

s, videos and multimedia*.
To set up your New York Times account for the first time, you must be on our campus internet network. Click on the image below, and follow the steps as directed on the webpage accessnyt.com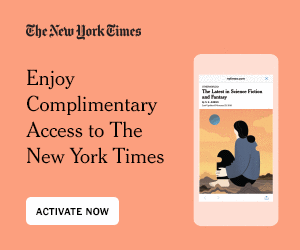 To set up your Wall Street Journal account for the first time, s
tudents, faculty and staff can activate their WSJ memberships via this URL:
If you are having trouble creating an account, or have any questions, please stop by the Reference Desk and we will be happy to help.
(*Ask the library about restrictions including crosswords and date ranges.)