Graduation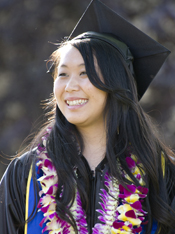 Are you ready to graduate?
If you are in your last course(s) that will complete your certificate and/or associate degree, you are required to apply for graduation. Check out the links below for steps to follow.
Application deadlines for a degree/certificate
Steps to apply for an associate degree
Steps to apply for a certificate

If students meet the requirements for graduation and/or certification, and submit an application for a degree or certificate by the posted deadline, diplomas and certificates will be mailed three months after grades are finalized for the semester in which the degree or certificate was requested.
SPOTLIGHT
Becky Lewis
ECS Student

"I have really enjoyed my experiences at Allan Hancock College. The college has enabled me to pursue the training and knowledge necessary to become a preschool teacher in our local community. The staff has been extremely supportive and encouraging."
We're Changing
the Odds!