Graduation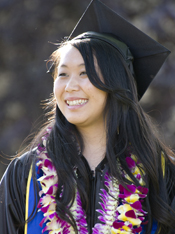 Are you ready to graduate?
If you are in your last course(s) that will complete your certificate and/or associate degree, you are required to apply for graduation. Check out the links below for steps to follow.
Application deadlines for a degree/certificate
Steps to apply for an associate degree
Steps to apply for a certificate
SPOTLIGHT
Claudia Diaz
ECS Student

The thing I like about the college is the campus itself and the variety of classes the college offers. I also like that the instructors are supportive and always available to help students whenever they need it. After getting my degree, my goal is to finish my transfer units and continue with my bachelor degree."
Submit a Testimonial »
We're Changing
the Odds!