Graduation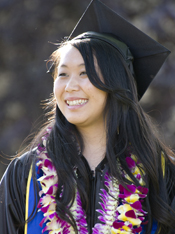 Are you ready to graduate?
If you are in your last course(s) that will complete your certificate and/or associate degree, you are required to apply for graduation. Check out the links below for steps to follow.
Application deadlines for a degree/certificate
Steps to apply for an associate degree
Steps to apply for a certificate
After students submit an application for a degree or certificate by the posted deadline, and the Office of Admissions and Records verifies completion, diplomas and certificates will be mailed three months after grades are finalized for the semester in which the degree or certificate was requested.
ESL Spotlight
Ana Aguilera
Business Administration

"At AHC, I did not only have the opportunity to obtain my AA in Business Administration, but I also had the opportunity to meet incredible teachers, staff, and friends. It taught me how to be more responsible. At AHC, I learned how to learn in many different ways. Also, it prepared to take advantage in using all the academic resources and services available for students."
We're Changing
the Odds!