Graduation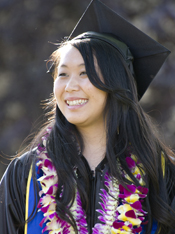 Are you ready to graduate?
If you are in your last course(s) that will complete your certificate and/or associate degree, you are required to apply for graduation. Check out the links below for steps to follow.
Application deadlines for a degree/certificate
Steps to apply for an associate degree
Steps to apply for a certificate
After students submit an application for a degree or certificate by the posted deadline, and the Office of Admissions and Records verifies completion, diplomas and certificates will be mailed three months after grades are finalized for the semester in which the degree or certificate was requested.
SPOTLIGHT
Sabine Cichlar
ECS Student

"I truly enjoyed all instructors in my Early Childhood Studies classes. My instructors have experience in the field and shared it with us to give us the real picture. The opportunity to do the lab hours at the school's childcare center was a bonus."
We're Changing
the Odds!