Math Center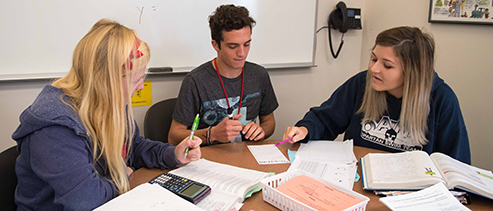 The Math Center is a non-credit, Community Education class which provides assistance in mathematics as a completely free service. Current Allan Hancock College students as well as other individuals who are 18 years or older may register for the Math Center each semester and attend as frequently as they want. Registration is for one semester only and may be done online or at Community Education in Building S.
The goal of the Math Center (sometimes called the Mathematics Lab) is to assist students in the successful completion of any Allan Hancock College mathematics class by providing additional instructional resources. The Math Center offers many resources, including one-on-one, drop-in tutoring by our staff of instructors and student tutors. Please see the full list of resources below:
Free, drop-in tutoring (View instructor/tutor schedule)
A place to study individually or in small groups
In-house loan of current textbooks and solutions manuals
A library of supplemental books and videos for check-out
Computers for mathematical purposes
Calculators, both in-house loans and semester rentals
Handouts on math topics, including content from various math courses as well as information on overcoming math anxiety and preparing for and taking math tests
Two private study rooms
Make-up testing
Register to use the Math Center
The Math Center is a free service available to all students, however you must register for the noncredit class BASK to use the services. Students must register online through the myHancock portal for BASK 7014.
Contact Information
LOCATION
Building M, Room 101
TELEPHONE
Telephone: 1-805-922-6966 x3463
HOURS
Fall and Spring Semesters:
| | |
| --- | --- |
| Monday - Thursday | 9 a.m. to 8 p.m. |
| Friday: | 9 a.m. to 2 p.m. |
| Saturday: | 11 a.m. to 3 p.m. |

Summer Session:
| | |
| --- | --- |
| Monday - Thursday | 12 p.m. to 6 p.m. |
| Friday: | 11 a.m. to 3 p.m. |
STAFF
Mary Alice Majoue
Math Center Coordinator
mmajoue@hancockcollege.edu
Debbie Strance
Instructor
dstrance@hancockcollege.edu
Achieve Success at the Math Center
ESL Spotlight

Margarito Frias
Instructor, Santa Maria High

"When I came to the US, I did not come to study; I came looking for a job to send money to my parents and younger siblings in Jalisco. All the time I was an AHC student, I was living in my older brother's house and kept working to support my family and save for tuition when I transfer to a university. Now that I have graduated with a master's degree and have been a teacher for eight years."