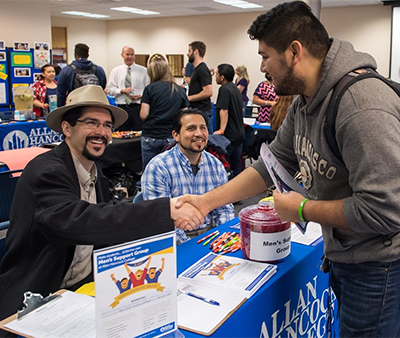 The group will be facilitated by AHC Male Faculty Counselors who are trained to assist in exploring men's issues such as:
College Success Skills
Careers and Job Relocation
Parenting & Relationships
Self-Motivation
Culture & Identity
Stress Management
Goals
The goal of this group is to help our Male Students increase their completion rate at Allan Hancock College. We know it's not easy to do this alone. So, sign up and receive support during this semester. Participants will benefit from the following:
book vouchers
field trips
school supplies
gas cards
community & camaraderie
mentoring
I have been a part of the MSG since day one. These groups of men have encouraged me to achieve goals I had only dreamed of! Thank you Dr. Hernandez, Mr. Navarrette, and Mr. Freeland for believing in me when I didn't believe in myself. Dream Big, Sky's the Limit!

- Arturo "Cheech" Raygoza
Since joining the Men's Support Group at Allan Hancock College, I have been able to push forward in my educational goals with the inspiration and support of my fellow brothers.


- Bobby Bablou
Upcoming Meetings
Meetings are from 3:30-5 p.m. and take place via Zoom.
January 22, 2021
February 5, 2021
February 19, 2021
March 5, 2021
March 26, 2021
April 9, 2021
April 23, 2021
May 7, 2021
How to Join
You will then be contacted by a counselor for an interview
Questions?
If you are interested in learning more about the Men's Support Group, please visit the Allan Hancock College Counseling department, or contact Ricardo A. Navarrette at 805-922-6966, ext. 3634 or by email at ricardo.navarrette@hancockcollege.edu
HOW TO USE CHAT?
Step 1: Click on "Knock on Door" on a staff member's card if you see a green light. Note: You can also log directly in to Cranium Café by visiting https://hancockcollege.craniumcafe.com and entering your myHancock username and password. This will give you access to chat with staff from other departments on campus.
Step 2: Click on "Enter meeting"
Should you have any issues, please contact our office at 805-922-6966 ext. 3293 and we will be more than happy to assist you.
Please note: When using the chat feature, please use a PC or a laptop and Google Chrome or Firefox as your web browser, as the program is only compatible with the mentioned. Students using other web browsers and other forms of technology may experience technical problems when trying to connect to online chat.
Video chat with Mens Support Group on Cranium Cafe