Meet Our Staff
Peer Coaches/Tutors:
| | | | |
| --- | --- | --- | --- |
| Ezequiel Atilano | Chad Conrad | Eddie Reyes | Adilene Rojas |
| | | | |
Peer Coach Highlight
Ezequiel Atilano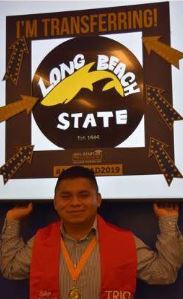 What is your role at CAN/TRIO?
My role at CAN-TRIO is to be a positive role model. As a peer coach, l have the opportunity to assist and encourage students to get involved on-campus and in the community. As the result of my involvement in clubs and support programs, I have been able to share information and resources with my fellow peers. In addition, I listen and motivate students by sharing my experiences at Allan Hancock College.
Please share one of your best CAN/TRIO experiences.
I have had a lot of great experiences with CAN-TRIO. They have consistently shared the importance of campus involvement, transfer information, financial aid, course selection, and scholarships. Through my interactions with my peers, I had the chance to create meaningful friendships. I am glad to be part of the CAN-TRIO family.
Finish the sentence. "If I could do one thing to make students' lives better, I would…"
share positive experiences with the students to motivate them to pursue their dreams.
What is one thing you wish people knew about CAN/TRIO?
The program has many caring peers and staff members that will support you in your educational goals and personal life.