Cap and Gown Etiquette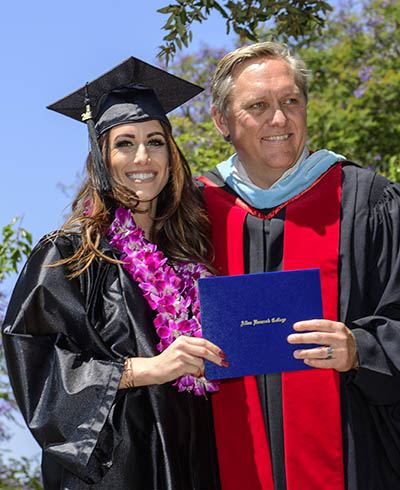 What do I need to know about caps, gowns, tassels, and graduation announcements?
Students are responsible for obtaining their own caps and gowns. Caps and gowns are required for commencement participation. They will be on sale the last week of April up through the day of commencement at the Allan Hancock College bookstore. Caps, gowns and tassels are all sold individually – price information is available at the bookstore. Gown sizes are based on height and weight and come in regular, X-large and XX-large and they are yours to keep after graduation. Announcements are available for purchase and contain a blank name card, a time and date card, and an announcement card with an envelope. Visit the bookstore for further details.
How should my cap be worn?
The cap should be worn so that the Mortarboard is level. It should not be tilted to the back or side of the head. The crown should be approximately one inch above the eyebrow.
How do I tell the front from the back of the cap?
The front of the cap is indicated on the inside of the crown.
I don't believe I received the correct gown, or I think my gown was made incorrectly?
You can return it to the bookstore if there is a defect.
Should the cap be removed anytime during the graduation ceremony?
Only men should remove their caps and that should be during the playing of the National Anthem and the school song.
How do I take care of my gown?
The gown should be removed immediately from the package and placed on a hanger.
The gown seemed wrinkled when I took it out of the package, should I send it to the cleaners?
The gown should not be washed or dry-cleaned. It may be pressed with a cool iron or steamed.
What should I wear underneath the gown?
You should wear lightweight, comfortable clothing.
How do I wear the tassel?
Tassels are worn over the left or right temple depending on the school's tradition. All graduates should wear the Tassel on the same side for uniformity. Some schools switch the Tassel from one side to the other in unison - after all diplomas have been received.