ID Cards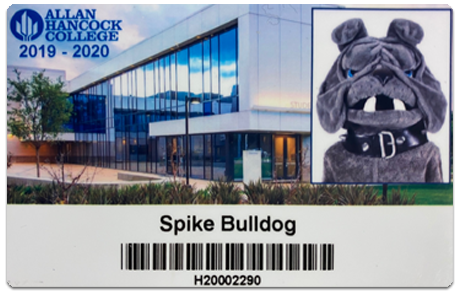 STUDENTS
Allan Hancock College provides free photo ID cards to all registered students. Students should be prepared to show their current schedule of classes when requesting an ID.
Student ID Cards are available during normal business hours. For fall 2020, many of the services listed below are not available onsite (many are available online and remote). For services that usually require an ID card, you may be asked for a copy of your fall schedule instead of an ID card – this allows you to make the decision as to whether you wish to obtain a physical ID card, which requires an in person presence, or use your schedule of enrolled classes. Your schedule is available on the myHancock portal.
Computer Resources Centers
Language Lab
Library Services
Math Center
Open Access Computer Labs
Physical Fitness Lab
Writing Center
Discounted PCPA tickets
Free Athletic event admission
STAFF
AHC provides free photo IDs for all employees. Employees should be prepared to provide their AHC issued H number or employment verification from Human Resources when requesting an ID.
All ID cards are available during normal business at the following locations:
Lompoc Valley Center Student Services, Building 1
Santa Maria Campus Admissions and Records, Building A
Santa Maria Campus Community Education, Building S