ID Cards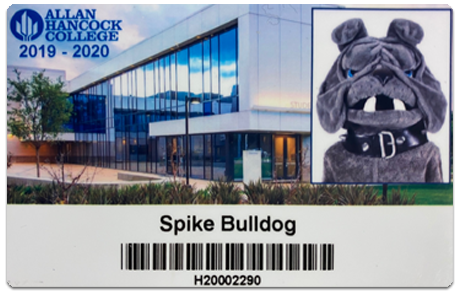 To protect social distancing, we are not open for in-person interactions. At this time, Student IDs are not available.
STUDENT
Allan Hancock College provides free photo ID cards to all registered students. Students should be prepared to show their current schedule of classes when requesting an ID.
An Allan Hancock College Student ID card is required to access the following areas:
Computer Resources Centers
Language Lab
Library Services
Math Center
Open Access Computer Labs
Physical Fitness Lab
Writing Center
Discounted PCPA tickets
Free Athletic event admission
STAFF
AHC provides free photo IDs for all employees. Employees should be prepared to provide their AHC issued H number or employment verification from Human Resources when requesting an ID.
All ID cards are available during normal business at the following locations:
Lompoc Valley Center Student Services, Building 1
Santa Maria Campus Admissions and Records, Building A
Santa Maria Campus Community Education, Building S
Santa Ynez Valley Center, Room R-1